Equity Assessment for Vancouver Public Schools (VPS)
Partner: Vancouver Public Schools (WA)
Service Area: ADEI & Continuous Improvement
Location: Washington
UPD Consulting (UPD) and The Valbrun Consulting Group (TVCG) supported Vancouver Public Schools in its work to examine and better understand the complex systems that inform student success.
The assessment was primarily framed using the Public Education Leadership Project (PELP) Coherence Framework and focused on three areas:
Highlighting elements that can support or hinder effective execution of an equity strategy

Recognizing the internal interdependencies among district elements

Identifying forces in the environment necessary to implement key action steps for equity
The Approach
Building upon the PELP framework, we centered the instructional core (defined as the relationship between teachers and students in the presence of content) throughout the assessment. The underlying theory was that gaining coherence among actions at the district, school, and classroom levels will make the strategy more powerful and sustainable, resulting in more equitable learning environments. TVCG used the Intercultural Development Inventory questionnaire for part of the assessment, which gathers information about the capability to shift cultural perspective and appropriately adapt behavior to cultural differences and commonalities. 
Data Analysis
A key characteristic of the assessment methodology was a two-armed approach: quantitative and qualitative.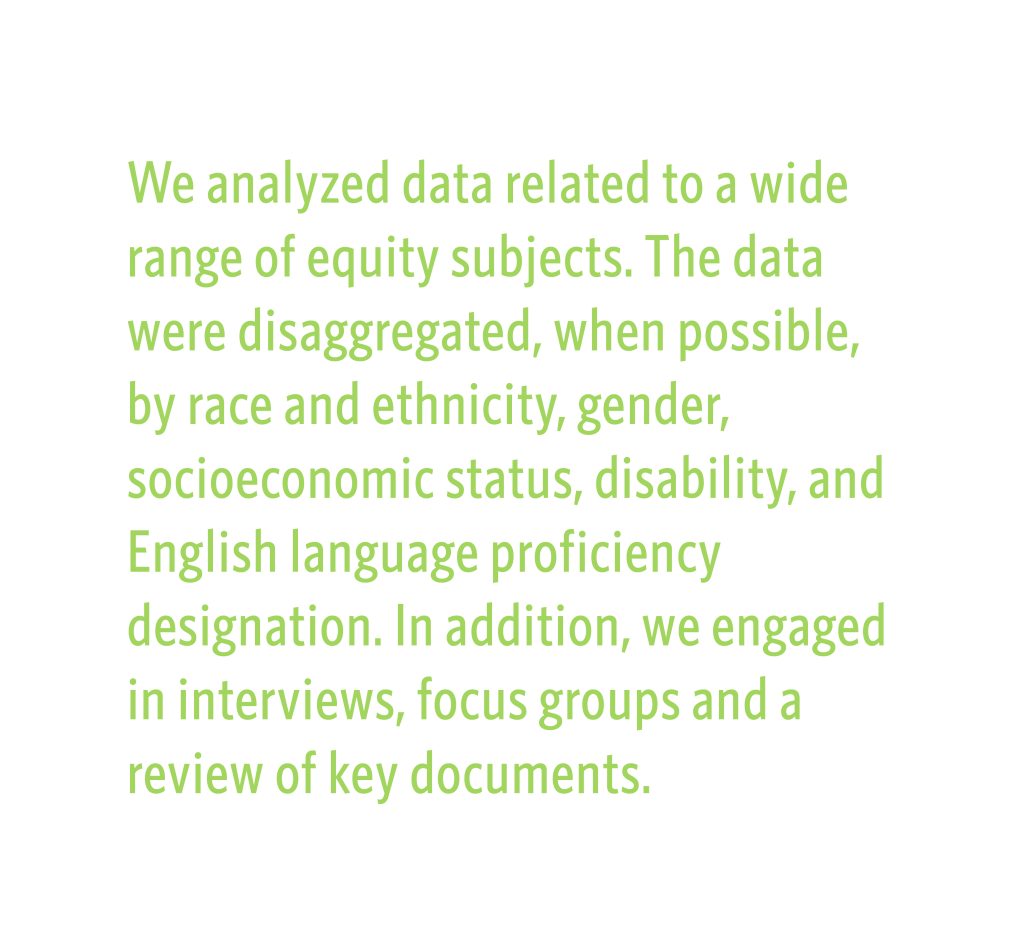 ANALYSIS OF QUANTITATIVE DATA
In order to better understand any potential differences across schools and subgroups of students and staff, we analyzed data related to a wide range of equity subjects including: student demographics, workforce composition, family and community engagement, student engagement, student achievement, professional learning, funding and resource allocation, curriculum, and culture and climate. The data were disaggregated, when possible, by race and ethnicity, gender, socioeconomic status, disability, and English language proficiency designation. Additionally, more targeted equity questions were incorporated into the VPS' annual Culture and Climate surveys for students and staff. These questions focused more specifically on creating identity-safe learning environments, investing in mental health and restorative practices, and experiencing defined culture, clear communication, and co-created expectations.
UPD analyzed disaggregated staff data to gain a better understanding of differences across departments and agencies and populations of staff.  The team also worked with the school district to conduct and analyze a staff survey focused on power and decision making as well as opportunities and barriers to diversity, equity, and inclusion.
ANALYSIS OF QUALITATIVE DATA
In order to develop a clearer picture, we engaged in interviews, focus groups and a review of key documents. Interviews and focus groups were conducted with district leadership, instructional staff, non-instructional staff, school leaders, parents, students, and other key stakeholder groups. The focus group format provided a safe space for stakeholders to share their experiences and insights about the district that they may not have been comfortable sharing in other spaces.
Development of Promising Practices and Areas of Improvement
A cornerstone of UPD's approach, particularly in the ADEI Assessment practice, is placing organizations and communities in position to turn findings and recommendations into actionable plans for work.  For VPS, we took the key questions associated with each of the five PELP areas of focus and organized the assessment's findings accordingly. Then we cross-walked those findings to the District's existing work plan, entitled "Promising Practices and Potential Areas of Improvement." In so doing, the equity assessment was embraced as a continuation of a process already underway. Building upon these findings' the engagement culminated with a set of five, high-level recommendations focused on scaling promising practices, capacity building and identifying goals for future change management work around equity.