Learning Networks are a great way to solve complex problems by accelerating learning and building collective accountability for impact.
When faced with a challenge, we can often learn from those around us who have had similar experiences. A Learning Network is a collaboration of peers engaged in their own unique work, but in similar contexts. We facilitate structured, unbiased gatherings for educators, informed by data-driven investigations and real-world success. The power of a network is directly proportional to how open participants are to learning from their peers, and how willing they are to share what is and isn't working for them. We emphasize reflection, experimentation, and the freedom to make mistakes as a part of the path toward finding the solution.
Our sum is greater than the whole of our parts. When we work together through challenging change implementation efforts, we can accelerate our growth and impact.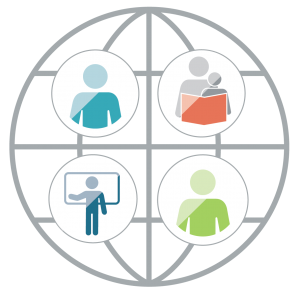 ---
Networks can include teachers, students, families, school leadership and outside partners.
Our Experience
Rhode Island Department of Education (RIDE)
Our work designing and facilitating Networks began in Rhode Island in 2010 as part of Race to the Top (RTT) implementation. UPD and RIDE co-facilitated nine cross-district Networks involving every LEA in the state. The US Department of Education created a white paper highlighting the structure and practices of our networks.
Illinois State Board of Education
In 2012, the Illinois State Board of Education worked with UPD to duplicate the Network structure in support of their RTT implementation.
Florida Implementation Network
In spring 2016, UPD was selected by the school districts of Lake, Miami-Dade, Palm Beach, and Volusia Counties as the intermediary for the Florida Implementation (FLI) Network, a standards-aligned instruction focused initiative supported by the Bill and Melinda Gates Foundation.
Charlotte-Mecklenburg School District (CMS)
In 2018, UPD launched a network of six elementary schools in CMS focused on improving early literacy instruction and outcomes.
"We talk all the time about the isolated nature of teaching. It's the same with districts. This is where and how we share, grow, think differently about how we implement to accelerate the work we are doing. Bringing us together for sustained periods of time is critical for learning and improvement."
– Jose Dotres, Chief of Human Capital Management, Miami-Dade County Public Schools