This makes sense. It is not revolutionary. It is not complicated, but it has been effective at helping to improve a problem that has had many failed attempts. The problem is the graduation rate at Chicago Public Schools. The method is Freshman On Track.
Why is it effective?
It's simple! Even non-data geeks can read, interpret, and act on this data.
There was a concerted effort to get the right data to the right people, the schools and teachers that could actually have an impact on individual students. The idea was to give schools the autonomy to develop the specific strategies and interventions for their students.
For many years now, it is been a constant, top priority at CPS – reinforced from the CEO level down to individual teachers.
So, what matters?
Grades and attendance. Is that shocking? Is that complicated? Does it require a statistician to monitor grades and attendance? No. Although standardized testing, family income, and home environment receive a lot of attention during drop-out statistics conversations, these two metrics had the strongest connections to graduation rate.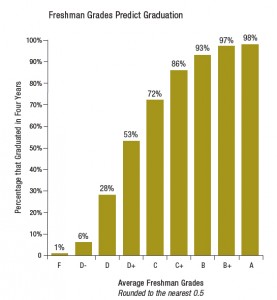 While there is no "silver bullet," the On Track indicator measures what we all already know to be true. Showing up to school and getting good grades leads to success in school. Tracking and monitoring these data points needs to be adopted by the district level and the school level, with individual schools owning their own strategies to implement change.
CPS students' graduation rate has increased 17 percentage points over the past decade
Students that are "on track" freshman year are 4 times more likely to graduate
If incoming freshmen get the right supports to learn how to navigate and be successful in high school, they are able to apply these learned strategies throughout 10th, 11th, and 12th grades
Individual schools are using data to identify students at risk of being "off track." The data is helping the schools identify the right supports for the right students at the right time.