It's summer time and that means many of us will be out and about with vacations, travel or just enjoying the summer sun.  Summer vacations are often full of new experiences.  It's the time when we venture to new and far off places, hoping for adventure as the days brim with the sense of endlessness and the night ever far away.
Summer is exciting because it's a time when we decide, consciously or not, to be open to new ideas, possibilities and look at things with new eyes.  I was reminded of this when after a meeting in Chicago, I went to Millennium Park (which if you have never been, is an amazing configuration of artist treasures, beautifully designed gardens, architectural marvels and family friendly spaces).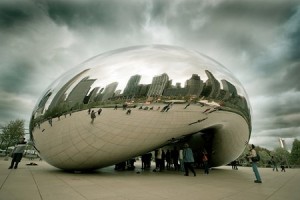 There in the center of the park is Cloud Gate by British artist Anish Kapoor.  It is a magnificent and mammoth 110-ton seamless stainless steel beauty that reflects the individual, the city and the sky.  On a perfect summer day in Chicago, it is a beautiful site to see.
Besides the beauty of the art itself, what is amazing is all the people looking. They look at themselves, others, the city, and the sky all reflecting in and out of the art and themselves in different ways. The afternoon I was there, a group of five- and six-year-olds were in fits of pure excitement to touch it, to look up and find their twin, to turn around and see themselves sitting on top of clouds and being able to touch the reflections of buildings as the skyline magically appears around the outside.  What was most interesting to me, was how the kids, with their eager eyes trying take everything in, would lay down on the ground, around, and under it and look up.  And stay there … quietly, looking up, never seeming to tire of the endless movement and combinations of reflections coming back to them from this gorgeous piece of metal.
This afternoon excursion was a reminder to me, not just about the joy of summer, but also about this idea of looking and reflection.  The work of public sector transformation is perhaps among the most difficult work there is. These efforts take time, energy, new ideas, and involve risk.  We try our best to bring about the best possible change for the most possible good.  And in order to do that well, we have to reflect and take in all perspectives possible.  We need to look, like those children do, at all the possible angles and try to understand not only our own perspective, but also the perspectives of others and how they fit.  We need to look at what is, what isn't, what seems to be, what should be, and what we want to be.   It's the collective lens that provides insight and challenges us to think about the best solutions.